Michael Jackson in HIS Captain EO shirt :)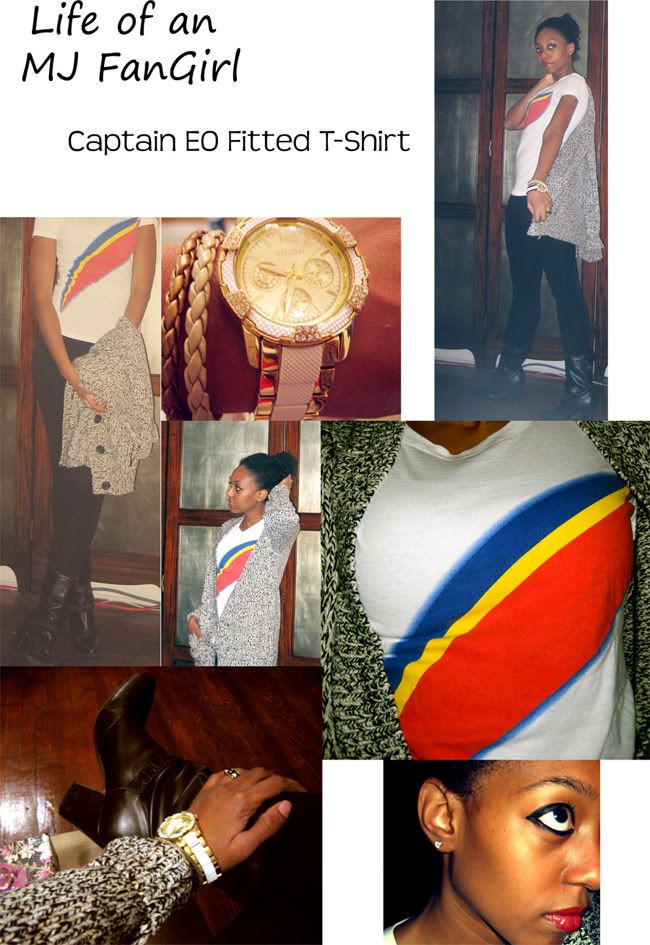 What I'm Wearing:
Captain EO Shirt, Disney World
Sweater, H&M
Leggings, Victoria's Secret
Bracelet, H&M
Watch, Avon
Boots, Easy Spirit
Theme Song
,
We Are Here To Change The World
I had a really relaxing weekend and I am happy that I got to catch up on some much needed rest. We had the first snowfall of the year here in New York City (actually, only the 2nd snowfall of the winter!) so I was happy to just stay inside, warm and cozy with a few good books and my laptop.
On Friday night, I went out to pick up a few things at the drugstore after work and since I wasn't going far, I decided to get out of my work clothes and put on something more suitable to my mood. This tweed sweater is super comfy and the texture is quite busy so, I kept my bottom simple, with black leggings and dark boots. For those of you who aren't familiar, the shirt I am wearing is a replica of the Rainbow Shirt that Michael wore in Captain EO.
I was super excited to have had the oppurtunity to see Captain EO at
Disney World
last summer and I had to pick up all of the merchandise as well. I got plenty of t-shirts, keychains, magnets, and even a poster. I am not too sure that you can still find this shirt from any authorized retailers but, I know that ebay might have some up for sale. The only thing that I didn't get were the stuffed animal replicas of Hooter and the Puffball (I think that was his name? haha). If you are interested, there are a couple of options for purchasing online. You can try
here for Puffball
and
here for Hooter
.
Anyway, I hope that you all had a lovely weekend! Let me know that you think about my outfit, I'd love to hear your comments!